The CQ100 HF Transceiver: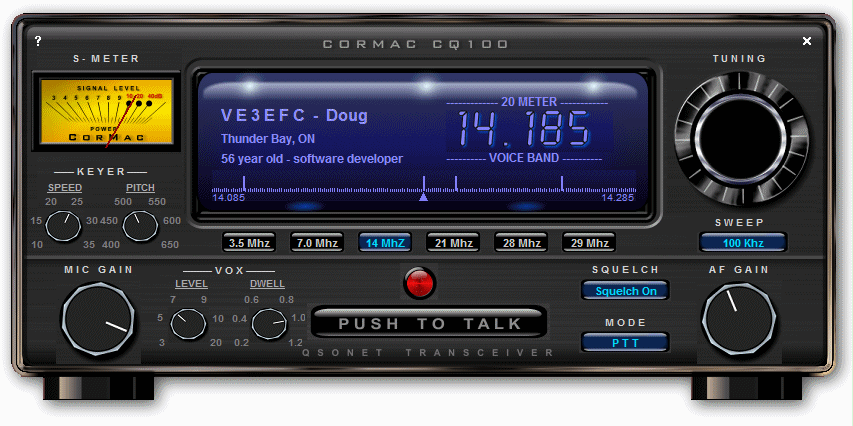 Features and Specifications:
Just works right "out of the box" with no need to configure router ports.
This means it can be used from hotel rooms, airports, public libraries, internet cafes, etc.
Covers 5 HF radio bands - 80, 40, 20, 15 and 10 meter bands.
Computer microphone provides voice modulation.
Includes built in CW keyer. Simply type on the keyboard to send perfect CW.
Spectrum graph shows radio activity within a settable sweep range of 50, 100, 200 and 500 kHz.
Call sign, handle, QTH, etc are automatically displayed for current transmitting station.
Keyboard "Hot Keys" provide a simple interface for vision impaired operators.
"Round-Table" QSO's are possible because any frequency may have a large number of listeners.
Video Demonstration
Click here to see a video demonstration.
System Requirements:
CQ100 requires Windows XP(3), or higher with sound card, microphone and speakers (or headset).
A reliable internet connection is required with a speed of at least 33.6k dialup.
Download the Instruction Manual
Download the complete English manual German Portuguese Spanish Italian Korean Japanese
Pricing:
The CQ100 transceiver is free to all licensed stations who register for QsoNet.
A $39 USD annual subsription to QsoNet is required after a 30 day trial period.
QsoNet is now free to use every Sunday (GMT).
---
QsoNet is owned and operated by Cormac Technologies Inc. Thunder Bay, Ontario, Canada
Copyright © 2006. All rights reserved.
Privacy Policy